Lever 2000 Bar Soap Original 3.15 oz, 4 Bar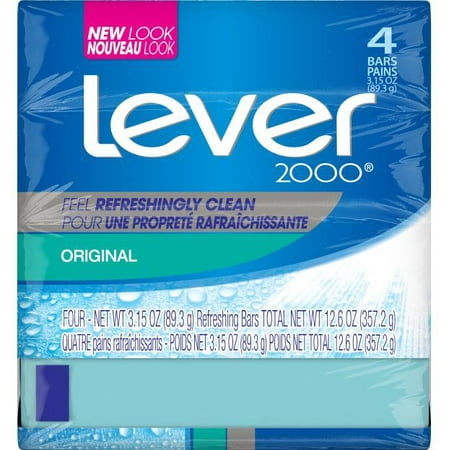 MSRP :

$7.89





Sale :

$4.19

Sold & shipped by Walmart
Product Description

Additional Information

Reviews
Product Description
Try Lever 2000 bar soap for a refreshingly clean shower experience. Lever 2000 Original bar soap gives you that refreshing, effective clean that you crave while helping to eliminate body odor. It is perfect for your whole family, giving you a quality formulation at an affordable price. Lever 2000 bar soap has deep, yet gentle cleansers that leave your skin feeling refreshed after each use. The Lever 2000 Original variant is made with the original classic scent that you know and love and will keep your skin smelling clean and extra fresh all day. Lever 2000 bar soap is great for all body parts, and is gentle enough to as a facial cleanser. To use, moisten the bar with water and rub it in your hands to lather. Massage over your skin then rinse thoroughly. Washing with Lever 2000 Original bar soap will give you a refreshing shower experience with just a light crisp scent, leaving your skin feeling refreshed and revived. The refreshing bath soap you know and love is also available in an Aloe & Cucumber soap bar. For your refreshing body and face bar, reach for Lever 2000 Original. NEW: Your favorite Lever 2000 Original bar soap is now in new packaging!
Additional Information
Lever 2000 Bar Soap Original 3.15 oz, 4 BarLever 2000 Original bar soap helps you feel refreshingly cleanFormulated with the original fragrance from Lever 2000Great for face and bodyLever 2000 Original bar soap leaves your skin feeling revitalized and invigoratedRefreshing bar soap for a great valueNew Packaging! Same great value
Reviews
Bradford68
Why change wonderful product???
Why did you change a wonderful product??? I have used Lever 2000 for over 20 years. When I developed skin sensitivity and allergies, my dermatologist suggested certain soaps. At the time, I showered often due to travel and had Loved your product. My family and I have continued to use it in our home. The changes you made make it difficult to hold, the scent is annoying and it dissipates Very Quickly. I do not mind paying more for the product. Have searched for the previous/old product without success. I'm considering changing to another body/face soap. WHY DID YOU CHANGE IT? Change it back PLEASE.
reister guy
I've left your brand b/c you changed a great soap.
Your changes to a wonderful soap have caused me to leave your brand. After more than 25 years, I was a loyal daily user of the original (formula) of Lever 2000. It was MY soap, one that I relied on every day. The scent, the lather, and the longevity were perfect. And for some reason, you changed it all. The new bar has virtually no lather after the initial use and the scent has lost a lot of its punch. I'm so utterly disappointed in your decision to change the soap, and even more disappointed that that you've made no acknowledgment as to why the soap changed. Please recognize the voices of your customers and return to Lever 2000's original formula and you will see a great number of customers return to your brand, including me. Thank you for listening.
Jjjj
Very disappointed.
About the only thing I like about the new bar is the shape. I've been using Lever 2000 since the 90's but this will be the last I ever buy because of the formula change. The new soap doesn't lather, and feels grainy. It's hard to get any soap onto a washcloth. Very disappointed. It reminds me of Coca-Cola changing their formula, they at least changed their product back. Let me know when you change your soap back and I will be a customer again.
sierram10
Very disappointed.
I love these bars of soap! They smell very clean and leave a subtle trace of that scent on your skin long after you've showered. They lather very well and a single bar lasts me for at least 2 weeks of me showering daily! These are my go-to bars of soap!
wendyc7487
Very disappointed.
It's fine, it's a bar soap - nothing special, nothing bad either. It's just a basic soap. What else can I say?