Bayer Dr. Scholl's Massaging Gel Women's Size 6-10 Heel Cushion, one pair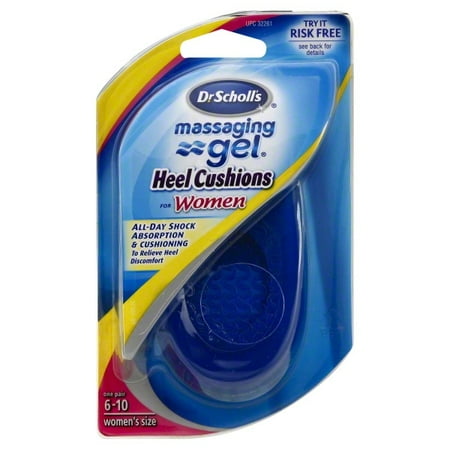 MSRP :

$7.47





Sale :

$7.41

Sold & shipped by Walmart
Product Description

Additional Information

Reviews
Product Description
Additional Information
Heel Cushions, for Women, 6-10 Women's Size
Try it Risk Free: See back for details. All-day shock absorption & cushioning to relieve heel discomfort. Heel Cushioning: Provides relief from heel sensitivity. Outrageous Comfort: Gel waves act like tiny springs to absorb shock. Tapered Design: Fits easily in all shoes. Dr.Sholl's Guarantee: If you are not completely satisfied with your purchase, mail in the original UPC code from the package along with your sales receipt to MSD Consumer Care, Inc. P.O. Box 377 Memphis, TN 38151 for a replacement or refund. See instructions inside. drscholls.com. Made in China.
Reviews
LuluDownSouth
These help me
These heel inserts really help me when I am on my feet all day. They are comfortable and not too high, so I've never had an issue with them. They were also only $4 online, compared to $6-7 in the store, so the price was unbeatable online.
FSUSIX
These help me
If you have any sort of heel problems (plantar fasciitis) - this is the product for you. I play tennis and need the added cushioning without all the bulk of the entire insert. Great product at a great price.
sharel
helped me to walk without so much pain.
this heel cushion has really helped the pain I was having in my achilles heel. I was unable to walk without pain. now I can walk and keep up with my exercise, thanks to this cushion. I have found you have to wait a month to see a foot doctor in this area of ky. but thanks to this heel cushion, I'll make it until then.
ItsYady
Surpassed my expectations!!! Speechless!
I recently started working at Fedex so I have to be on my feet for hours. My feet were killing me on a daily basis. It got so painful I decided to go to Walmart and buy some insoles. I bought the $10 ones from Dr. Sholls and they made my feet hurt even more so I decided to give it another try. I went to Walmart today and bought these instead AND they worked!!!! I felt no pain at all, they're comfortable, soothing, and truly helped with the needle like pain I was getting on my heels. I can't express how good these insoles are. The most shocking part is they were cheaper but worked way better than the other ones I had purchased first -_-
Rosie928
Seemed to help the pain right away
I got these yesterday and used them with a pair of sandals that have sling back straps, so they stayed in place. As soon as I put them on I noticed an improvement. It is not 100% gone, but walking with these in my sandals really helps to ease the my pain in my heels.