Dr. Scholl's Corn Cushions, 9 ct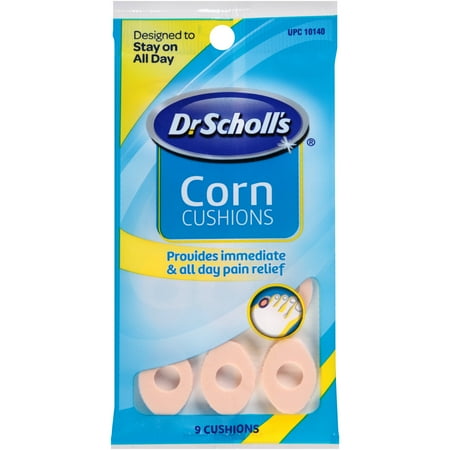 MSRP :

$4.04





Sale :

$2.64

Sold & shipped by Walmart
Product Description

Additional Information

Reviews
Product Description
Eases painful shoe pressure and friction, and cushions longer than store brands. Self-stick, waterproof adhesive holds cushion in place.
Additional Information
Dr. Scholl's Corn Cushions, 9 ct:
• Designed to stay on all day
• Provides immediate and all-day pain relief
• Eases painful shoe pressure and friction
• Soft latex foam
• Self-stick, waterproof adhesive holds cushion in place
• Won't catch on hosiery
• 9-count Dr. Scholl's corn foam cushions
Reviews
NOLAChristmasShopper
Good Padding for Sore Feet
Outside on my feet for miles each day with work. Am actually using them on a callus, as they are much thicker than callus pads. They also stay put!
Eddie
No where to be found!
Great product but I went to all of the locations listed to buy product and not one of them had them.
QueenZ
Pads stay adhered until removed
These pads work better than any of the other ones I've tried. Once placed they remain until you remove.
Anois
Excellent cushioning, BUT....
For years the only way to "provide immediate and all-day relief from painful corns, shoe pressure and friction" for a corn between my little toe and the one next to it was the small size corn cusions. But it seems that size is no longer available. I've been lucky that I still have a very small stash, but I don't know what I'll do once that limited supply runs out. Surgery is not an option, and neither is using corn remover products. Moleskin doesn't help at all. The larger size corn cushion doesn't work for me. It's too big to stick to either toe. I tried cutting off the two ends, but it still doesn't fit. And even if it did, the hole is so large that it would allow the corn on my little toe to come into contact with the other toe. I tried taping the cushion to my toe, but that covered the hole, thus eliminating the benefit. More than wasting money on both the larger cushions and adhesive tape, I'm very upset about not being able to buy a product that has always worked so well for me. You might even say that I'm sorely - both figuratively and literally - disappointed. Giving this product only 3 stars is totally a factor of no longer being able to buy the size I need. Otherwise it would be a 5-star rating, because that size consistently provided the relief I need, exactly as described by Dr. Scholl's, and as I quoted above.
KingBrian
Better than the store brands
I've tried the various corn removers, and for some reason they just don't get the corn out completely, so in a day or two it hurts again. I've been having a hard time finding these corn cushions, I see that people are lamenting the fact that the small size isn't available any more, it seems even these larger ones are disappearing! But the Dr. Scholl brand sticks all day and night for me, and even two days if I don't shower the second day. So the claims of them falling off right away seem exaggerated to me, but either way they work great for me. Gonna buy some here so I can stop trying to find them in 3 or 4 different stores. Great product!