The Luxury Cotton Rich Original Bed Bug Blocker, All-In-One Collection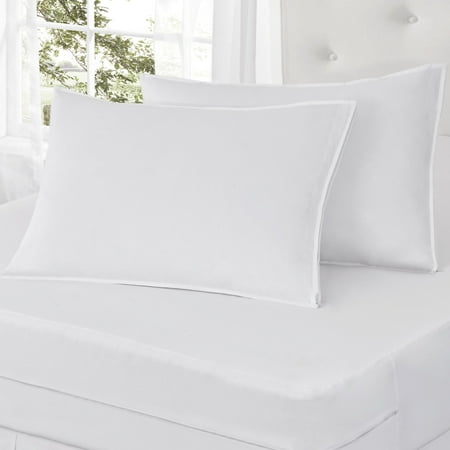 MSRP :

$44.44





Sale :

$40

Sold & shipped by Walmart
Product Description

Additional Information

Reviews
Product Description
Keep your mattress protected at all times with this Luxury Cotton Rich Mattress Bed Bug Blocker. With a dual-layer specially coated fabric and a sealed closure system, this bed bug blocker is equipped with the necessary features to keep bed bugs and other insects at bay. For those who suffer from allergies, the bed bug blocker comes with an allergen barrier and a dust mite blocker, making it a smart choice for any home. The fabric of the mattress bed bug protector is stain resistant and waterproof. The bed bug protector can fit mattresses and box springs up to 18" deep, giving you the protection you need in your bedroom. This zippered mattress protector is made with a 200-thread-count cotton fabric for an elegant touch. The mattress protector is made with a specially coated fabric that will keep dust and bed bugs out while giving you the peace of mind you deserve for a good night's sleep.
Additional Information
This mattress protector is also ideal for allergy sufferers and is recommended by doctors and allergists.

Luxury Cotton Rich Bed Bug Blocker Zippered Mattress Protector:
Complete mattress encasement
2-layer special-coated fabric and a triple seal closure system
Recommended by doctors, allergists and entomologists
Fits mattresses and boxsprings up to 18" deep
Bed bug blocker, allergen barrier and dust mite blocker
Stain-resistant
Waterproof
200-thread-count cotton rich fabric for soft and safe sleeping
Reviews
Patty
better than expected
We got bed bugs from a friend we let stay with us, I was mortified. I found out after being eaten for two months. Our bed didn't have any signs so I didn't think it was bed bugs. But sometimes sleep in the guest room when my husband' snoring got to bad, yep, that's where they were. Just a few, but that was enough. That mattress was gone and I bought two of these. Went on so easy. I had purchased a different one at first and it was hard to go on and the zipper broke. This one, so very easy with two people, took just a minute, though I am sure you could do it with one. I was afraid of "noise" from a bed cover, there is some but you don't really realize it and personally I think it makes my sheets feel better. We bought these and the pillow cases... no more bugs, I am no longer their buffet.
AdirondackBorn
Good for a twin size
I bought the twin size. The opening is on the short end, so mattress must be inserted that way. Fortunately I have lightweight mattresses! Other than that, good value for the price. They are machine washable, and are comfortable due to the cotton covering. They are quiet, no "crinkle" sound when the person moves. I bought them mainly for the waterproof and allergen value (have an aging parent living with me), not so much the bedbug protection. I did put an additional mattress pad over it for comfort and convenience, but it could be used without one. It does help with the allergy's, much better than the sprays and treatments that must be done daily or weekly. There are more expensive protectors available, this one does the job at a good price. I did buy the pillow protectors after seeing my mother's allergy issues improve literally overnight.
QYork
Watch Out - It Tears Easily
We had a brand new bed bug infestation and the exterminator told us that if we would basically wrap the mattresses and box springs in a bed bug cover that it would be very easy to trap and kill the remaining few. So we bought three of these for our three beds. One of the beds uses a box spring that sits on top of a metal bed frame. We were so ecstatic because it seemed that it all worked! Three months went by and not another problem from bed bugs. Then, in the third month, suddenly someone got bitten... two nights in a row. We knew then the problem had come back and was probably worse. We called the exterminator back and as he did his inspection, he lifted the box spring off of the bed frame and he instantly spotted the problem. The dang protector had gotten holes punched into it. Apparently the stables in the bottom of the box spring rubbed against the metal bed frame and over time it poked holes into the protector. This was so infuriating because the problem came back with a vengeance. And more infuriating because it could be so easily solved just by making the edges of the cover with a little thicker material that wouldn't tear so easily. I'm convinced if this cover hadn't sprung holes it would have done its job perfectly. But if you have box springs - be very careful with this product.
BeachTimer
Met our needs
We used this protector in a spare bedroom (just in case). After reading reviews, I decided to go with this product. We are very happy with the quality of the construction. The zipper didn't seem to be very fragile, however, we did have 2 people to install it easing any stress on the zipper. (the reviews warned about this). The cover is very roomy and will probably fit any depth of mattress. It seems to be a great product especially for the price. We plan on purchasing additional ones for all the beds in our beach house. We get lots of company and the thought of hitchhiking bedbugs just freaks me out.
Dietpepsihead
Luxury Cotton Rich Bed Bug Blocker
Seems to be a quality product. I had no problem getting it over my brand new eleven inch full sized mattress. Some reviews mentioned a weak zipper that might break easy but mine gave me no problems. The top and bottom fabric composition are different which might matter to some people if you flip your mattress periodically, which I do. I have never really had problems with bugs, I live up north. I bought it mainly to keep it cleaner longer. By the way I purchased another, cheaper Walmart cover to put over my box springs. It is sort of vinyl like a shower curtain. I also got free shipping and that is the story