Dickinson's Original Witch Hazel Pore Perfecting Toner, 16 fl oz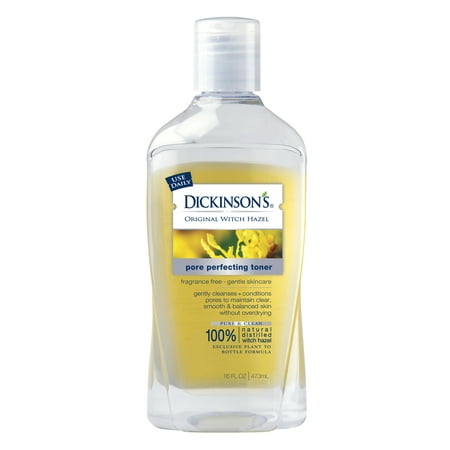 MSRP :

$10.69





Sale :

$4.68

Sold & shipped by Walmart
Product Description

Additional Information

Reviews
Product Description
The 100 percent natural formula of this 16-fl oz container of Dickinson Witch Hazel Toner removes makeup and cleans your skin. Designed to refine pores and remove and control oil build up, the Original Dickinson Pore Perfecting Toner has a mild scent. You can use this Dickinson Witch Hazel Pore Perfecting Toner to lock in moisture and maintain clear, smooth and balanced skin. It is an oil-free formula that is non-drying and helps to soothe irritation. You can use the Dickinson Witch Hazel Pore Perfecting Toner on virtually all skin types.
Additional Information
Pore Perfecting Toner, Fragrance Free
Original witch hazel. Gentle skincare. Gently cleanses + conditions pores to maintain clear, smooth & balanced skin without overdrying. 100% all natural. Exclusive formula. This pore perfecting toner refreshes & refines pores, removing excess oil, dirt, & makeup residue without overdrying. It's 100% natural formula contains no added fragrance or dyes. Our exclusive blend of witch hazel plant extracts creates its signature botanical scent and make it gentle enough for even the most sensitive skin every day. Pore Perfecting Benefits: tones pores; removes & balances oil; soothes & refreshes; helps depuff. Dermatologist recommended. Questions? 1-888-860-2279; dickinsonusa.com. We never test on animals. Witch hazel skin care since 1866.
Reviews
saved4real
Great For Evening Skin Tone/Amazing Product!
This pore perfecting toner not only clears up blemishes, but it fades spots and helps with the removal of hyperpigmentation. When trying this product for the very first time, to my surprise, I noticed a visible difference in the texture and tone of my facial skin. The more I use it, the results are quite impressive. I honestly didn't expect to get even toned skin as a bonus. After washing my face thoroughly, I see leftover dirt on cotton balls each and every time I use this toner. It's definitely giving me everything I could have dreamed of in a toner. I'm so thankful I found this product online at walmart.com and ordered it. I've been faithfully using it daily and am very pleased with what I see in the mirror. NOTE: I had previously purchased the Dickinson's 100% natural blue label witch hazel/astringent and found it to not be effective at all. However, this pore perfecting toner of the same brand is simply amazing!
saved4real
Amazing Toner
This toner is amazing, not too fond of the smell but i'll get past that in no time. My face recently broke out and i used this for two days and the majority of them are gone. Amazing! Love this is stuff! I added this stuff in my skincare routine in the morning and at night, right after washing my face. Does wonders for my face. I apply a generous amount on a cotton ball and apply directly all over my face especially on my toughest spots for acne. I naturally have an oily skin and during the summer i break out like crazy and this stuff pretty much took care of that in, like i said, two days! i just recently go this item for free from influenster and it is one of my favorite products that i received. Although i did receive this product free for testing purposes this review is no joke. All true!. Definitely will go out and buy with my own money once i run out.
Teena
Excellent!!
I got this to soothe the bumps on my face posting waxing/threading, as I read that witch hazel does wonders for that. And Yes, it works perfectly!! It soothes the redness and bumps like none-other. I have extremely oily skin so I have to apply it about 2-3 times with an hr gap between applications to achieve that perfect smooth skin the following day (I usually get crazy bumps the following day of threading/waxing). But this product also does what it says in its name--its excellent in minimizing pores. I had few huge pores which I would try to hide with makeup. Suddenly I saw that there weren't there anymore, and the only thing i did different in my skincare routine was use this product once every two weeks(post waxing). It also minimized the difference in my skin tones (my chin is a little darker/pigmented than the rest of my face). Unlike the neutrogena toner, this does not dry my skin or cause acne(caused by excessive dryness) over a period of time. With all that said, I have now included this little miracle worker into my everyday skin routine as I have recently read that toners should be used regularly anyways...for that perfect toned skin. Absolutely love this product!!
disbelief
Excellent!!
I understand T N Dickinson Witch Hazel has been discontinued in all the Wal-mart Stores and I am disappointed. This is a great natural product and the price was reasonable. I am an avid Wal-mart Shopper and I am requesting that you return to selling this product. Thank You!
jenilynevette
I'm a fan!
I've always had combination oily/dry skin, and it drives me nuts! Add on the fact that I have a few bad unwanted blemishes, and it was like a nightmare! The type of blemishes that are very, very red, dry & itchy.. that are hardly able to be covered with makeup. I had heard rave reviews about this stuff, and decided it was worth a try - It was not available at any of the nearby walmart locations, so I did have to order it online. It was about $9 total with shipping. I decided that I would stop moisturizing my face in the morning & at night and replace it with this. I started this 1 week ago, and already I have seen a huge difference. If you use this product as it's intended, you will see results that you love! I did not notice much of a difference the first few days I used it, about the 4th day or so, I noticed that as it was drying, I could feel my pores tingling - I looked real close in the mirror and could see that most of my blackheads were less noticeable, my pores were smaller, and quite a bit of the redness from my blemishes was gone. My face is less oily than it's ever been! My breakouts are healing, my skin is much softer! I have not used facial moisturizer or face primer since I started using this product. Things can only get better from here! Some of the bad reviews on here I think are from some customers who aren't sure what this product is for. It's meant to moisturize, cleanse, & repair skin. You need to start with a clean face, so first wash your face with a non residue soap & water to remove any makeup or sweat. This product is not intended as a makeup remover, so don't bother trying to use it as such. Once your face is clean & dried, use a cotton ball or makeup removed pad [both can be purchased at any local walmart location in the beauty section], to spread this product around your face. Let air dry. This is best used in the morning before you apply makeup, and at night before you go to bed. Lastly, it does smell bad, but I don't think it's as awful as what many people have been reviewing about. I only notice it for a few minutes after using the product, it goes away after that!