Palmer's Skin Success Anti-Dark Spot Fade Milk Tone Correcting Body Lotion, 8.5 fl oz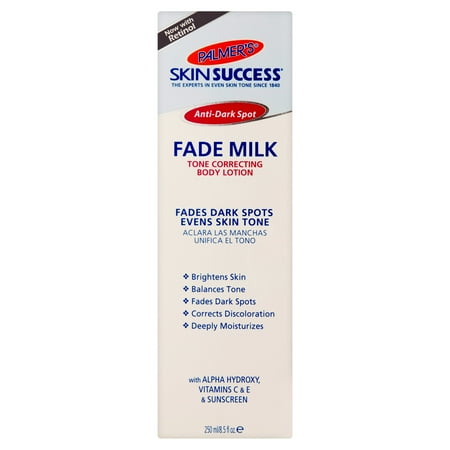 MSRP :

$10.39





Sale :

$9.18

Sold & shipped by Walmart
Product Description

Additional Information

Reviews
Product Description
Even your skin tone and fade dark marks with Palmer's: Skin Success Fade Milk. Just smooth it on for clearer, brighter skin. This Palmers Fade Milk goes on smooth and gives your complexion a boost for a younger look. t comes in a convenient 8.5 fl oz bottle.
Additional Information
Palmer's Skin Success Anti-Dark Spot Fade Milk Tone Correcting Body Moisturizer.
Now with retinol.
The experts in even skin tone since 1840.
Palmer's Skin Success Anti-Dark Spot Fade Milk Tone Correcting Body Moisturizer.
For a brighter, even skin tone.
Fades marks.
Evens skin tone.
Reduces dark spots.
Corrects discoloration.
Deeply moisturizes.
With alpha hydroxy, vitamins C & E & sunscreen.
Palmer's is against animal testing.
Palmer's does not manufacture store brands.
Palmer's unconditional.
Anti-Dark Spot.
Skin discoloration is not limited to your face.
Dark spots and uneven skin tone can appear all over the body, typically caused by sun exposure, acne scars, pregnancy, or even severe dryness.
Palmer's Skin Success Fade Milk is a rich, body lotion that targets pigment-prone areas such as knees, elbows, feet and decolletage to fade unwanted discoloration such as:Dark spots.
Age spots.
Post acne scars.
Uneven skin tone.
Key ingredients:Hydroquinone - Fades dark spots and discoloration.
Retinol - Helps improve fine lines and boosts collagen.
Vitamin E - Protects against free radicals.
Alpha hydroxy fruit acids Helps increase cell turnover.
Vitamin C - Naturally brightens.
Enhanced moisturizers - Deeply nourishes skin.
Contains an added sunscreen to help protect skin from daytime sun damage and prevent darkening from recurring.
Visible improvement in as little as 2 weeks*.
*May take up to 6 weeks.
Uses:Lightens dark discolorations in the skin such as: pigment in the skin that may occur in pregnancy or from the use of oral contraceptives.
Contains a sunscreen to help prevent darkening from recurring.
Questions or comments?
1-800-378-6123 in the US.
Guarantee... If not completely satisfied, simply return unused portion to manufacturer for full refund.
www.palmers.com.
2014 E.T. Browne Drug Co., Inc.
Reviews
ross
bad allergic reaction
I got this body moisturizer in walmart store the other day. I used couple times and i had a very bad rushes. I never had this kind to rushes before. I did not sleep all night i was etch and spreading the rushes really fast i used both their body moisturizing lotion and the the bar also. so if you have a very sensitive skin dont try this product at all. It can destroy your skin i used this in my face to couple times with the bar soap.. my the left side of my eye was swollen. so be careful dont want you to have happen like me. I have photos to prove it that this is all true...
Karen
2 bottles down
I have been through 2 bottles of this with no change. I have dark patches on my legs and arms from to much sun growing up and it has done nothing.
Pinotnoir
Palmer's Skin Success with Retinol works better
I gave this product a 4 star rating because it is a good quality for only having the 2% hydroquinone, which is the strongest you will be able to purchase without a prescription. You can also mix retinol to this product to make it more effective on darker skin. However, the new "Palmer's Skin Success Now with Retinol" with the light blue label is more effective than this older product. Darker skin needs more exfoliating to get rid of marks and discolorations, which retinol is required, along with the hydroquinone and alpha hydroxy. I wish Walmart would make the new Palmer's Skin Success Fade Milk "Now with Retinol" available online. You can only get this formula in the stores, but it quickly disappears off the the shelf.
amadele
My "go to" product
I complained to my dermatologist about all the brown spots that are appearing on my skin. They are on my legs, arms and hands. The doctor told me that the only known chemical for reducing brown (or age) spots is hydroquinone and that it must be applied daily and any improvement would NOT happen right away. I am a fair skinned Caucasian but my skin is not white, white. I researched every product on the market that contains Hydroquinone. I found that most products were outrageously expensive for some tiny little jar or tube. That was very discouraging because I knew I would need a lot if I wanted it to work. While shopping one day, I found Palmer's Skin Success Fade Milk containing 2% Hydroquinone and the bottle contained 8.5 ounces for around $9.00. I figured it was worth a try. I started applying it like a skin lotion all over my arms and legs after every shower. I was diligent about it. I believe that is the key. So, after about 8 weeks, I started to notice that the darker spots were getting lighter and some of the lighter spots were disappearing! I have just purchased my third bottle and I use it religiously because it works. The reasonable price compared to all of the other products that were just "highway robbery" was definitely also a motivator. As long as it is available, I will be using Palmer's Fade Milk and the next time I see my dermatologist, I am going to ask him if I stop, will the spots come back?
tunry
wonderful product
i was looking for a product to slight tone my skin, this was good, it clears scars and mark, infact i recommended it for my husband too, he is still on one bottle and his skins looks slightly lightened and clears some spots and marks, its amazing, i loved it.