Palmer's Shea Formula with Vitamin E Raw Shea Body Lotion/ 13.5 oz.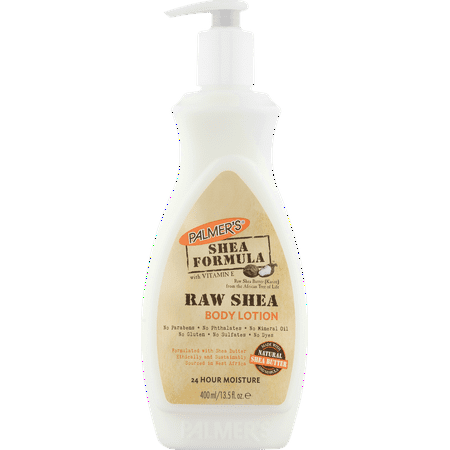 MSRP :

$12





Sale :

$5.12

Sold & shipped by Walmart
Product Description

Additional Information

Reviews
Product Description
Our Raw Natural Shea Butter is sustainably sourced in Africa. This rich, super nourishing ingredient is the building block for softer, radiant skin. Palmer's Shea Butter Formula Body Lotion naturally contains a high level of unsaponifiable, antioxidant - rich emollients that create a protective moisture seal to help prevent skin dehydration.
Additional Information
Improve elasticity for a more youthful, radiant glowBalance tone & textureSoothe & calm irritationNo ParabensNo SulfatesNo PhthlatesNo Mineral OilNo GlutenNo Dyes24 Hour Moisture
Reviews
angelp
They changed the formula
for years ive been using palmers shea butter it had a lovely soft fragrance, was very creamy and really moisturized my terribly dry skin. it was wonderful. a few months ago they changed the look of the bottle (now white) and along with that they changed the formula. it stinks like very cheap perfume, it gave me a headache. the lotion was no longer creamy but thin, and it did not moisturize my skin at all. what a huge disappointment, it was so bad i had to return it. they definitely should have kept the old formula.
zimmykat
magical :)
After an online search for a stretch mark solution, I chose this product due to rave reviews on youtube and I am AMAZED at the results, seriously! Overjoyed with the added bonus of watching old scars fade away as well. I have used vitamin E for scars, with minimal results ... the combination of E in this formula probably super boosts its effects. I apply all over every night and wake happy and silky smooth. LOVVEE IT!! Please try. I have a tan complexion, normally dry, and this product is a life saver!
safarimama
Palmer Shea Butter Formula ~ not what it use to be
I use to love the Palmers Shea Butter Formula, it was nice and thick and didn't have much of a scent. Could never find it at our Walmart, they carried the Cocoa Butter but I don't like the scent. Found it on walmart.com and ordered 2 bottles. Not the same. They must have changed the formula. It's not as thick and is scented. Will not buy again.
mtlaino
Shea body lotion
This lotion is light on the skin,a little goes a long way. It keeps my skin moist until the next time I wash my hands. Nice fragrance and no parabens or sulfates..not a lot of junk obsorbing in my skin, I really like that. It's hard to find in the Walmart where we shop. I would recommend.
Aheits
Light and smells great!
I get dry skin but I don't like thick oily products. Also looking for something that doesn't have a tons of chemicals. I liked palmers when I was prego but the sent was a bit strong. This one is great. It has a light sent, keeps my skin soft and not dry.