Palmer's Cocoa Butter Formula Massage Lotion For Stretch Marks Lotion, 8.5 fl oz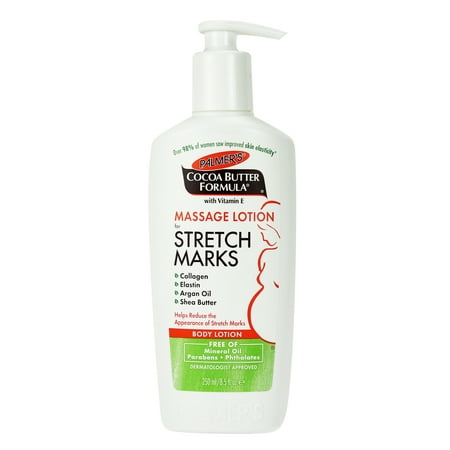 MSRP :

$8.99





Sale :

$5.28

Sold & shipped by Walmart
Product Description

Additional Information

Reviews
Product Description
Palmer's Massage Lotion helps improve skin elasticity and reduce the appearance of stretch marks. This non-greasy lotion is ideal for all over body use, in place of your regular moisturizer.
Additional Information
Hypoallergenic Collagen Elastin Argan OilShea Butter Free of Mineral Oil, Parabens and Phthalates Helps Reduce the Apperance of Stretch Marks Dermatologist Approved.
Reviews
kuhlman12
just started
I am 23 and this past year I had been lazy and really had eaten badly and had gained about 20-30pounds and just recently started getting stretch marks on my inner thighs, hips and butt. VERY< very embarrassing to have my boyfriend finally say "honey lets go exercise!" well I am trying to lose weight and work on these new marks and I bought this product today and also Fish oil pills to help with any further new stretch marks. I think this product is great for dry skin already and I am going to apply it 3 times a day and up date this on my results. I have researched online what helps stretch marks and this product has all the main contributors so I do believe this will be my saving grace while I lose the weight to help with the marks! I do believe that stretch marks are hard to get rid of and theres not much you can do to help older ones but research has shown if you act fast on new ones that are purple and pink that the fading will happen if you us the right product and drinking enough water! I am not really a fan of the chocolate smell but whatever works, works and in the end the smell of chocolate isn't something worth being picking about
LovesHerKiddo
Pretty good lation, terrible bottle.
I got this because of the convenience of the "lotion" spout that you didn't have to undo to get lotion, just push it down and it comes out. (Rather than the tooth past kind of container that you have to deal with the lid) But the lotion pout doesn't work. The lotion is too thick and clogs the spout so I had to unscrew it and take out the pipe and use the pipe to wipe it on my skin and it is annoying. But the lotion itself seems to be pretty nice. NO matter who you are, stretch marks will effect you differently. Some women may never use ANY lotion and not get one single stretch mark while others may lather it on day and night and still get them pretty bad... It vaires between people so I'm just grateful to have something to keep my mind at ease that I MIGHT NOT get as bad of stretch marks as I would without it... but we'll see! I'm only 6 months right now.
bchlvnmom09
Wonderful!!!
I loved this product! It wasnt greasy and I started to get a stretch mark...I slabbed this on and it was gone in 3 days!! I only wish it was a bigger bottle for the price.
srisha
Good one
I used this product since i was 3 months pregnant.I gained 20lbs in my pregnancy.Was expecting to have worse strechmarks as I am prone to strech marks.I would not say''zoom!!no strechmarks''.But to my suprise,I have very little strechmarks and most important they arent much visible.I used to apply 2xday.I also had dark skin around my tummy and back and now the skin has even tone like the rest of my body.In short,I would recommend this.2 of my friends had good results with this product and thats why I bought this.
Melissa
Made my stretch marks worse
I decided to try this because it doesn't have mineral oil in it, I am allergic. I'm currently losing weight. I've lost 30 lbs. I wanted something for my stretch marks and to help prevent loose skin. The original cocoa butter has mineral oil in it so I gave this a shot. Within a few days my stretch marks got deeper and redder. Once I quit using it they improved. Do not recommend.