SEGA Sonic's Ultimate Genesis Collection (Xbox 360)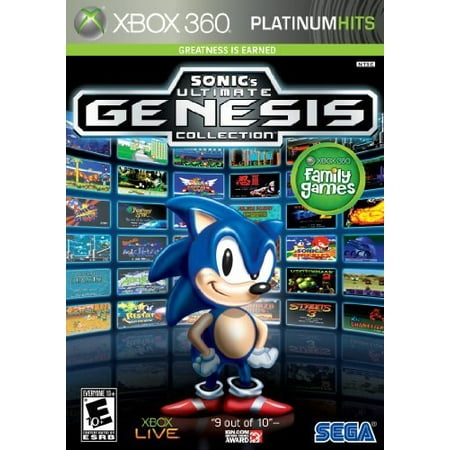 Sale :

$13.99

Sold & shipped by Walmart
Product Description

Additional Information

Reviews
Product Description
This compilation features 49 of the best first-party games from SEGA's venerable 16-bit Genesis years, as well as feature bonus content from its 8-bit Master System and 1980's arcade era games library. Featured games include Sonic the Hedgehog 1, 2 and 3, Columns, Ecco the Dolphin, Shinobi III, Space Harrier, and fan favorite Streets of Rage. The games in the collection have been reproduced with the utmost detail and accuracy to the original games. In addition, Sonic's Ultimate Genesis Collection can output the games in 720p with higher resolution graphics for HD televisions, bringing a new visual richness to playing these classic titles.
Additional Information
Relive the glory of your SEGA Genesis days with over 40 classic titles from Sonic the Hedgehog to Streets of Rage.
Play the originals that started it all... now in HD!
The biggest SEGA Genesis collection ever!
Enhanced HD graphics.
Unlockable content.
Mega multiplayer fun.
ESRB Rating: EVERYONE 10+ with Animated Blood and Violence
Reviews
xbox360junkie78
A must buy!
As soon as I seen my local walmart had this is stock, I ran out and bought it. This is the greatest genesis collection to date. The games you can actually save whenever you want. This game will bring back some memories. Please not there is no online etc. Just leaderboards. Also has interviews with some of the sega producers. Think about it, 49 games in all for just thirty dollars! Some of the games dont unlock until you've achieved something in one of the unlocked games. Works out well gives you something to keep playing for. This has kept me as it will you also busy for a long time. Go out and pick this up. Hope this review helps.
Sam
A must buy!
Purchased for grandson for Christmas,Wanted to show him old school ,however was able to use on his system
Sam
49 Games to tickle your nostalgia sense
This is quite frankly the best package of classic games I have ever seen. If you like Beatem ups you are covered with the Golden Axe, Streets of Rage, or Alterred Beast series. Platformers? How about Sonic the Hedgehog, Vectorman, or Shinobi? What about RPGs? Phantasy Star 1-4, Beyond the Oasis, and the Shining Force series say hello. Hands down the best bang for your $30.
ESHELTO
EXCELLENT BUY
This is exactly what I have always hoped for. It has my favorite games, i.e. Phantasy Star 1-4 and Shining Force 1,2 Can't beat the bang for the buck on this install onto the XBOX 360 platform.
wooga
It's Fun for the Family
We all love playing sonic together. I think if you use to like GENESIS you will like this game.