Sonic & All Stars Racing Transformed (Wii U)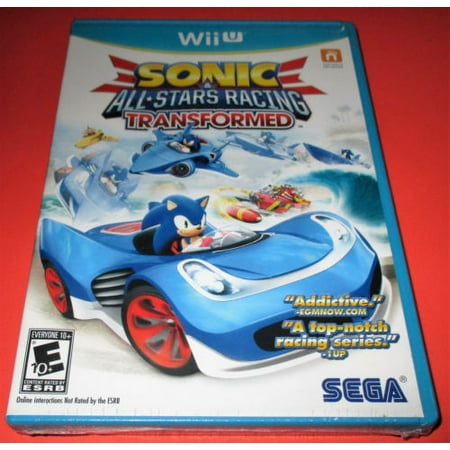 MSRP :

$21.41





Sale :

$19.44

Sold & shipped by DRMM INC
Product Description

Additional Information

Reviews
Product Description
Sonic and the All-Stars cast line up on the starting grid once again to battle for supremacy in the ultimate race. Compete across land, water and air in incredible transforming vehicles that change from cars to boats to planes mid-race. Master your driving skills as you drift, barrel roll and boost to overtake your rivals, or use your weapons tactically and unleash your All-Star move to gain the winning advantage. It's not just your fellow racers you need to watch out for: as the road falls away beneath you, or the river runs dry, new routes emerge and your vehicle transforms to take advantage of the terrain. Discover alternative routes and short cuts as you perfect the course in this adrenaline fuelled dash to the finish line - racing will never be the same again.
Additional Information
Wii U Gamepad Functionality - Use the Wii U GamePad as a map, weapon camera or rear view mirror, utilize tilt controls, or swipe the screen at any time to move the action from your TV to the Wii U GamePad screen.
Wii U Game Modes - Utilize the Wii U GamePad in exclusive multiplayer modes. Team up with friends to defend an airship from attack, or use your monkey ball to squash rival racers, plus even more!
5-Player Splitscreen - Four players on the TV and one on the Wii U GamePad - splitscreen has literally transformed!
Playable Mii Characters - Play as Miis with their own transforming vehicle.
Choose from 22 playable Sega characters!
Over 26 tracks and arenas!
NASCAR driver Danica Patrick and Disney's Wreck-It Ralph join the racing cast!
ESRB Rating: EVERYONE 10+ with Animated Blood, Mild Language, and Mild Cartoon Violence
Reviews
Kris1975
Love
My son loves Mario Kart and could never find a racing game to compare. This game does! Super fun and a new family favorite. Fun for family to race together.
NintendoFann
Loving it
This game is great! I was a little worried at first since it was cheaper then all the other games and I've never really been a fan of Sega and their Sonic games. However, the graphics are wonderful. It reminds me of Diddy Kong Racing for the Nintendo 64 which was one of my favorite games back then. It's a lot like Mario Kart too.
Letemunionize
Until mario cart comes out, this will tide us over
Really surprised how incredibly fun this is. Online play is great as well. Nothing is as good as Mario cart but his is as close. Sooo much fun, get this game!
Yityit
Fantastic Gameplay at a Reasonable Price
I got this game to tide me over until Mario Kart 8 comes out in Spring 2014 and this game exceeded my expectations. There are some things about it that I like better than Mario Kart. I really enjoy the transforming vehicles and I think that adds a lot to the gameplay and the diversity of each course. I enjoy all of the unlockable characters in the World Tour, and how there are several different types of races rather than just traditional races (Drift Race, Boost Race, Battle Race, and one where item pickups are missiles and you have to chase a tank and destroy it). The great news is, you can play multiplayer pretty much within any part of the game, whether it's World Tour, Grand Prix, or just a couple Single Races. My only qualm is that it can be a little bit glitchy. I played with a friend for days with no problems, but when other friends were also over and wanted to play, we were playing with 5 people total and the game froze after 3 races. This was kind of disappointing because we were all having a lot of fun. It might have been a fluke, but it's something to keep in mind. Other than that, this game is fantastic and I would definitely recommend it to someone who enjoys racing games.
jeffjohnson
Fun game, fast service!
Kids love this game!