Mario & Sonic: Olympic Games (DS)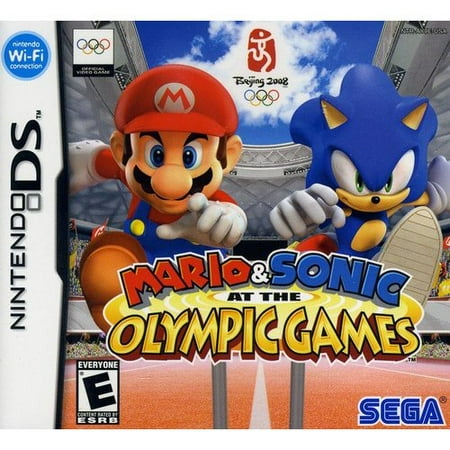 Sale :

$54.04

Sold & shipped by AMI Ventures Inc
Product Description

Additional Information

Reviews
Product Description
Mario & Sonic at the Olympic Games features the two famous characters together for the first time, competing with a large supporting cast.
Additional Information
Two of the biggest icons in the entertainment industry, Mario and Sonic, are joining forces to star in Mario and Sonic at the Olympic Games. Developed exclusively for the Wii video game system and the Nintendo DS system, this momentous agreement marks the first time these two renowned stars have appeared together in a game.Featuring an all-star cast of characters from the amazing worlds of both Mario and Sonic, players will be able to compete as or against a range of familiar characters including Mario, Sonic, Luigi, Knuckles, Yoshi, Tails and more. Innovative usage of the Wii and DS control systems to maneuver your favorite character will allow players to race the likes of Mario and Sonic down the 100m track, leap over the high jump or churn water in a swimming heat, all while competing for the much sought after gold medal. With up to four players on the Wii and on the DS, the stage is set to catch the fever this holiday with Mario and Sonic.Features:Compete in stylized Olympic venues with authentic events to choose from including track and field, archery, skeet shooting, table tennis, gymnastics and more.Select your favorite playing style from the all-star cast of Mario and Sonic characters with four player types to choose from: all-around, technical, speed, and power. Examples: Mario (All-around), Peach (Technical), Yoshi (Speed), Bowser (Power), Sonic (Speed), Knuckles (Power), Tails (Technical), Amy (All-around).Game Modes: Try out each event individually with Single Match mode, compete for the highest overall score in a series of events in Circuit Mode, or take on challenges created specifically for each character in Mission Mode. Up to four players can play together on the Wii. DS allows up to 4 players to compete via wireless connection.Unlockable stages where familiar items from the worlds of Mario and Sonic enhance the challenge of each unique event.
Reviews
bkkbum
Great Kids Game
This game gives my 9 year old daughter hours and hours of fun times.
Shell23
Great Kids Game
I can not put this game down. My favorite game selection is the table tennis, it is fun. I would recommend it to anyone.
ThriftyScott
great gift
My grandson loves this game, and I love buying it online and having it delivered to his home 1000 miles away.
hannahjgamelvr
Great Game but failed to meet expectations
Hey, I just recently got this game for my son, but ended up playing a little of it myself. I couldnt believe how fun it was to play mario vs sonic. It was so cool. Such a good thing to have those 2 together. I loved the tennis and water sports. I must warn you though, the ds requires lots of jabbing the touch screen, and rubbing. It caused a tear in my touch screen. I heard that mario and sonic at winter games, requires holding ds like a wii control. Try getting that. Above all, story was good, but I wish it could have required the key pad, my hands got tired after awhile.
ShortMe123
Great Game but failed to meet expectations
I love this product. I bought this for my grandson for his ds and he loved it. He plays it everyday. I babysit him every single day and every time i come there he is palying it in his bed. he is eight yrs. old and he loves it so much. He palys it every minute he can HE EVEN BRINGS IT TO SCHOOL FOR RECESS! He showed all of his friends the game and all of his friends love it too. They all bought one in the next week. Or even before the next week! I am very glad i bought my grandson this gift.