[email protected] Areta 10 Parameter Urinalysis Reagent Test Strips, 50 count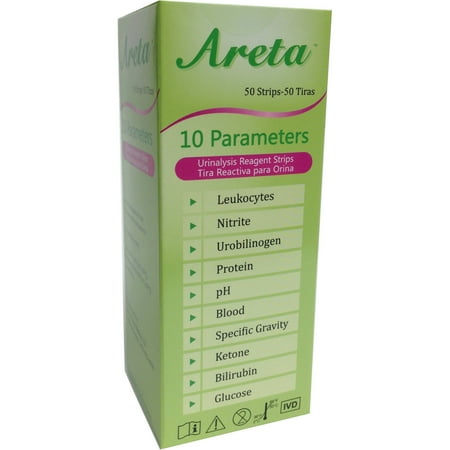 Sale :

$10.75

Sold & shipped by Easy Heathcare Corporation
Product Description

Additional Information

Reviews
Product Description
Ensure that you get accurate medical results each time with this pack of
[email protected]
Areta 10 Parameter Urinalysis Reagent Test Strips. This product offers more parameters and delivers accurate results better and faster compared to most brands. The
[email protected]
Areta 10 parameter test strips are easy to use. Simply hold one in your urine stream for about 2 seconds and then just wait 2 minutes to get the results. A color chart and guide is provided on the bottle.
Additional Information
[email protected] Areta 10 Parameter Urinalysis Reagent Test Strips:
More accurate and tests more parameters than most brands
Tests for leukocytes, nitrite, urobilinogen, protein, pH, blood, specific gravity, ketone, bilirubin, and glucose
Easy to use--hold one test strip in your urine stream for 1-2 seconds and wait 2 minutes to read the test results; match the color of the test strip pad to the color chart on the bottle
Save the doctor visits
50 test strips in one bottle make less waste within shelf life
Reviews
Elialex
Easy to Use!
I wanted something to help manage my pH levels and I am so happy I found these test strips! These Areta Urinalysis Reagent Strips do not only test pH, but also a whole panel of things including: Luekocytes, nitrite, urobilinogen, protein, blood, specific gravity, ketone, bilirubin, and glucose. The tests are sensitive and pick up the levels pretty quickly and display them clearly. The test kit includes 50 strips, which is a generous amount. I definitely recommend trying these!
MomofManyKidz
I like that they test for more than one thing.
I was regularly testing my pH and Ketone levels daily. With these strips I can test those both, and several other things. I like that its all on one strip. I did find that I had to really follow the specific directions with this strip. The sliding of the backside against the collection container to wipe off excess urine really helped it to not run. I will keep using these.
DonG
Easy to use Urinalysis test strips
I'm using these test strips to monitor the protein in my urine. They work well ,you must follow the instructions to the letter! It's a little difficult to match the color on the protein test but doable. I test often at different times. Much better than having to go to a lab. I have learned much about my condition.
Lehuk
Useful Product
I have not had to use this new bottle yet. This is my second purchase of this product, the first one lasted a long time before it became expired. I did notice this time that it is recommended to store the product in the fridge. I have done this and will see if it improves the length of time before expiration.
kelly60
Quick and easy to use
These urine test strips are quick and easy to use. Just hold in urine stream for a couple of seconds, wait 2 minutes, then match the color to the chart. You can check your leukocytes, nitrite, urobilinogen, protein, pH, blood, specific gravity, ketone, bilirubin, and glucose levels at home without needing to go have lab tests done. They make it simple to monitor these levels for various health conditions.