Everlast 100-Pound Heavy Bag Kit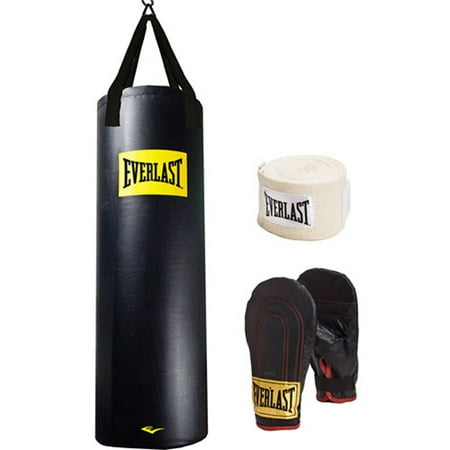 MSRP :

$79.99





Sale :

$67.99

Sold & shipped by Walmart
Product Description

Additional Information

Reviews
Product Description
Feel what it's like to throw a punch with an Everlast 100-Pound Heavy Bag Kit. It's also ideal for footwork drills and other boxing moves that will make you into a contender. In addition to a training tool, this punching bag kit is ideal for almost anyone who wants to stay in shape and be healthy. This item is designed to withstand hours of practice. It's easy to hang on a pipe or hook by using the fully-adjustable chain. The item ships pre-filled and ready to use. The Nevatear heavy bag also has the texture and weight of the heavy bags you'll find in expensive gyms. There is just enough give with every punch, leading to extended workouts. Each Everlast 100-Pound Heavy Bag Kit also includes breathable 100 percent cotton hand wraps, for added comfort and support. There are also all-leather bag gloves with specialized padded palm grips that are specifically designed for heavy bags.
Additional Information
Everlast 100 Pound Heavy Bag Kit:Durable Nevatear heavy bag with reinforced webbingDurable and functionalPunching bag kit includes leather bag gloves with padded palm gripBreathable 100% cotton hand wraps for comfort and supportNevertear heavy bag features an adjustable heavy bag chain
Reviews
chelleIsaymore
Good product
This product is a good deal for 100lbs. I didn't like the gloves so I went and purchase a better one. The one it came with was very cheap. Not your average boxing gloves you are use to seeing. It does not come with the eye bolt to hang the bag in the garage so you would need to purchase that at your local Home Depot. Even with the cheap gloves that it came with I still think it was a good deal. I was originally going to purchase one at BIG 5 until I came across this.
JoKeR
love it
I really enjoy this product, received it in a timely manner through site to store. easy to assemble. thank you
sur5voll
A good bag for the price
I have owned and used several bags all in the 100 pound category, I would have to say this bag is worth what you pay for it, Ive seen more expensive ones that were not as good,mine arrived undamaged , the logo was different, but looks better an doesnt really matter, as for settling, all bags do over time, depending on how well they were packed( they are not simply filled),I have been lucky with 2 so far from Everlast, a couple of points, if you have never purchased a heavy bag before, 1. the bag is boxed with NO packing material, cut the box, cut your bag, 2. as soon as you unbox it all, take your shiny new gloves into the kitchen an drop them in a garbage can, even if you wrap your hands, your just asking for a poor experience that will turn you off to what is actually a nice piece of equipment to own,get yourself a pair of 12 to 16 oz boxing gloves, and if you kickbox ,as I do, do not forget your feet, youll increase your speed, be safer, and have an overall better experience.
KoolKeif
Not for Hard Hitting
Straight out of the box this bag is pretty good but as you begin to really hit it with any amount of power all the sand/filling falls downward inside. After about a month the filling was condensed to the lower half of the bag. This causes a couple of major problems: 1) attempting to hit the soft part with a punch will hyperextend your arm due to lack of resistance and 2) the majority of the weight falling downward causes stress on the cheap stitching at the bottom. As a result my bag completely ripped at the bottom and the stuffing fell clean out. I took the bag down several times before it tore and flipped it upside-down to redistribute the filling but it always dropped right back after a few shots. You really get what you pay for. If you want a bag for light hitting and a strictly cardio workout then this bag may suffice. But if you really want to develop power in your strikes and can hit with good force already try something else for sure.
boulevard13
Not the greatest, but worth it.
As others have stated before me, the gloves that come with this bag are terrible. The are, at best, speed bag gloves. I use a pair of UFC brand MMA gloves with gel wraps for my hands and cotton wraps for my wrists. I can really lay into the bag without injury that way. The wraps are just that, cotton wraps. They do what they're supposed to. The bag stuffing worked its way down into the bag faster than I expected, so high punches can be a little squishy while low punches are a little solid. Take the bag down, flip it & shake it, & it smoothes thing out. I hung the bag by myself with the assistance of 2 folding chairs. Less adventurous people should use a friend. If you're going to hit hard, get the 100 lb bag. Anything lighter will be swinging like a propeller.