SlimFast Original Ready to Drink Meal Replacement Shakes, Cappuccino Delight, 11 fl. oz., Pack of 8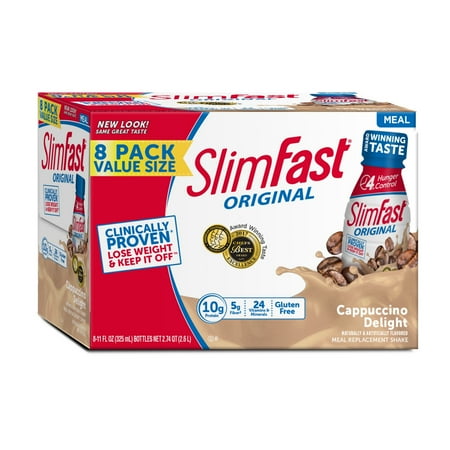 Sale :

$9.98

Sold & shipped by Walmart
Product Description

Additional Information

Reviews
Product Description
Packed with 24 essential vitamins and minerals, 10g of protein, and 5g of fiber, the SlimFast Ready to Drink meal replacement shake is a balanced formula that tastes great and helps you to lose weight and keep it off!* SlimFast meal replacement shakes have helped millions of people lose unwanted pounds by reducing those annoying hunger cravings for up to four hours. It contains 180 calories in each 11 oz bottle, giving you plenty of energy without packing on unwanted pounds. One serving contains a third of your recommended daily intake of most essential vitamins and minerals. This keeps your body running strong during the day. Weight loss can also taste great! Over the years, SlimFast has received multiple awards from Men's Health and OK! Magazine as well as the ChefsBest Taste Award for its exceptional-tasting formula. As part of the clinically proven SlimFast Plan, this delicious gluten-free meal replacement shake helps to control hunger, but does not starve your body of essential proteins. The SlimFast Plan is proven to help you lose weight fast and keep it off. With the SlimFast Plan, losing weight is as easy as 1 - 2 - 3: simply enjoy one of your favorite 500-calorie meals, replace two meals a day with SlimFast shakes, and indulge in SlimFast snacks to satisfy your hunger. It's easy to start any time— just pick a date and lose the weight! *When used as part of the SlimFast Plan^Contains 5g total fat per serving
Additional Information
GREAT TASTE - With an award-winning french Cappuccino delight taste, SlimFast Original meal replacement shakes are a delicious way to lose weight.PACKED WITH PROTEIN, VITAMINS & MINERALS - The SlimFast Original ready-to-drink meal replacement shake is a balanced formula packed with 10g of protein, 5g of fiber^, and 24 essential vitamins and mineralsCURBS HUNGER CRAVINGS - SlimFast Original shakes are an exceptional meal replacement product that curbs hunger cravings for up to four hours to keep you satisfiedPART OF THE SLIMFAST PLAN - The SlimFast Plan offers flexibility and simplicity to make losing weight as easy as 1 - 2 - 3. This clinically proven weight loss plan helps you lose weight and keep it off*AWARD-WINNING - SlimFast has received multiple awards from Men's Health and OK! Magazine for best meal plan
Reviews
LovetheIngallsFamily
Easy to Find
Walmart is the only place in Winston Salem that I've been able to find the 8 packs of the Capcuccino flavored drink. Lowe's Foods sometime have the 4 pack but you can get an 8 pack at Walmart for the same price. I just wish the Walmart's that are just grocery and pharmacy would carry this flavor also,. They only have the dark chocolate flavor. It's really excellent for curbing your appetite. I don't eat ice cream anymore. I pour one of the bottles in a bowl, freeze for about 3 hours and instant frozen ice. It's really convenient to order onlne. It saves me a trip to the big box store and comes directly to the door. The last time I ordered it on Thursday morning and it was delivered on Friday afternoon. Couldn't ask for better service
Livie
It's a wow!
Great taste. Very effective. Worth the price.
Sarah
Yum
Excellent flavor. Nice alternative to standard flavors.
michelle
slim fast
Taste very good and very filling for about 3-4 hrs. However, drink a lot of water with this drink if not, your urine will smell just like the drink.
Lori
Delicious!
I have enjoyed using SlimFast replacement shakes for quite a while...great for a quick breakfast or snack! My local grocery ran low on the flavor Cappuccino Delight and didn't replace it fast enough, so I ordered from Walmart at a great price for an 8-pack. The service was excellent and delivery was fast!