SlimFast Original Ready to Drink Meal Replacement Shakes, Creamy Milk Chocolate, 11 fl. oz., Pack of 8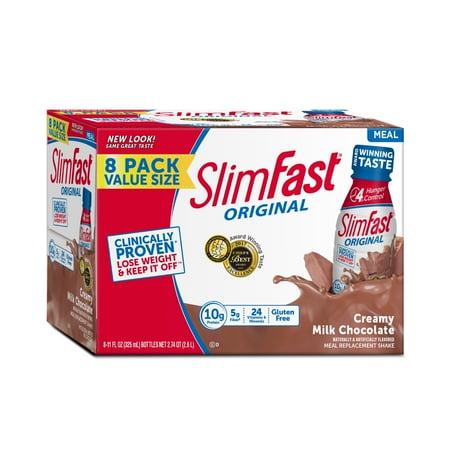 Sale :

$9.98

Sold & shipped by Walmart
Product Description

Additional Information

Reviews
Product Description
Packed with 24 essential vitamins and minerals, 10g of protein, and 5g of fiber, the SlimFast Ready to Drink meal replacement shake is a balanced formula that tastes great and helps you to lose weight and keep it off!* SlimFast meal replacement shakes have helped millions of people lose unwanted pounds by reducing those annoying hunger cravings for up to four hours. It contains 180 calories in each 11 oz bottle, giving you plenty of energy without packing on unwanted pounds. One serving contains a third of your recommended daily intake of most essential vitamins and minerals. This keeps your body running strong during the day. Weight loss can also taste great! Over the years, SlimFast has received multiple awards from Men's Health and OK! Magazine as well as the ChefsBest Taste Award for its exceptional-tasting formula. As part of the clinically proven SlimFast Plan, this delicious gluten-free meal replacement shake helps to control hunger, but does not starve your body of essential proteins. The SlimFast Plan is proven to help you lose weight fast and keep it off. With the SlimFast Plan, losing weight is as easy as 1 - 2 - 3: simply enjoy one of your favorite 500-calorie meals, replace two meals a day with SlimFast shakes, and indulge in SlimFast snacks to satisfy your hunger. It's easy to start any time— just pick a date and lose the weight! *When used as part of the SlimFast Plan^Contains 5g total fat per serving
Additional Information
GREAT TASTE - With an award-winning Creamy Milk Chocolate taste, SlimFast Original meal replacement shakes are a delicious way to lose weight.PACKED WITH PROTEIN, VITAMINS & MINERALS - The SlimFast Original ready-to-drink meal replacement shake is a balanced formula packed with 10g of protein, 5g of fiber^, and 24 essential vitamins and mineralsCURBS HUNGER CRAVINGS - SlimFast Original shakes are an exceptional meal replacement product that curbs hunger cravings for up to four hours to keep you satisfiedPART OF THE SLIMFAST PLAN - The SlimFast Plan offers flexibility and simplicity to make losing weight as easy as 1 - 2 - 3. This clinically proven weight loss plan helps you lose weight and keep it off*AWARD-WINNING - SlimFast has received multiple awards from Men's Health and OK! Magazine for best meal plan
Reviews
JosieJosieJosie
Good diet if you don't like to cook -- like me
Let's face it. Any good diet will work if you can stick to it. I don't like to cook, so I like the convenience of grabbing a shake as I leave the house (if I'm in a hurry) OR I sip it leisurely if I have no morning appointments. To fill out the rest of my day I buy Lean Cuisines (the ones that are 300 or less) and I buy Cherrios and skim milk (I often eat Cheerios and skim milk for supper--once again, NO COOKING.) If I'm stuck outside running around and need some "fast food" my first two choices are a baked potato from Wendy's OR a BMT dressed with lettuce, onions, black olives and vinegar only. I also purchase Pepperidge Farm's VERY THIN bread in case I wish to eat a sandwich at home. I try to avoid most fast food places because of the heavy fat content in most of their foods. I try to keep my meals between 300-400 calories. I actually like the creamy chocolate slim-fast. YUMMY
raven
Bye, bye fat!!!
Here's my honest review.. It works, however... It could be improved with more fiber that FULL FEELING could last longer. 2. It works much better for those of us very active or on our feet most of the day. Us older people or ads sitters (no disrespect) it takes longer. I skip breakfast, a shake. Eat lunch but high priced foods like Salmon, lots of fresh fruits and fresh vegetables are absent from my diet. Sometimes I get an Apple, or grapes. I drink diet soda (all salt, chemicals no cola at all anymore) I get small dish pasta, sometimes burger meat. Or scrambled eggs and roast. AS I only gives me 733.00 a month to live and pay rents ( a joke ) and 109.00 food stamps. So food is sparse and never filling or very nutritious. But I am losing weight. And thanks to WAL-MARt's great price and low cost/free delivery it's affordable. Using Slim Fast is really helping me get breakfast and I use another bottle to replace my dinner. Evenings I get sugar free fat free pudding. I love Chocolate. Good luck puppies... replace two meals daily you too can do it!!! :-) :-) :-)
moviedeprived
Bye, bye fat!!!
It tastes so good and really does quell hunger. I've literally drank one while my stomach was rumbling and it almost immediately stopped. The full four hours after drinking this, I don't have any desire to eat more than recreationally.
Natalie
Slimfast
I've been using slimfast for breakfast along with fruit and toast every morning for about 4 months. Ever since I was diagnosed with Diabetes. I love slimfast because it's easy. And I've lost 25lbs. so far.
bearrib1
It really works!
This is my favorite flavor Slimfast and like the other flavors, it helped me lose 30 pounds in 6 months.