Fujifilm Instax Mini 7S Instant Camera (with 10-pack film) - White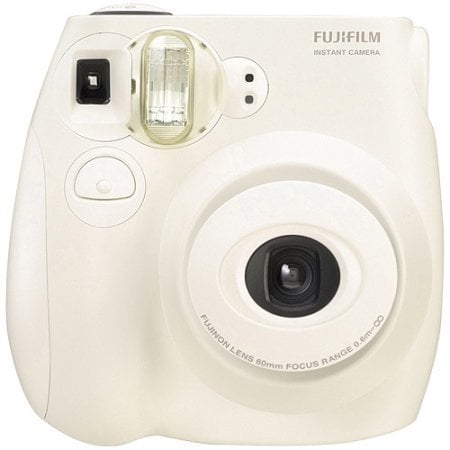 MSRP :

$59.99





Sale :

$49

Sold & shipped by Walmart
Product Description

Additional Information

Reviews
Product Description
Capture your favorite moments and enjoy them right away with this Fujufilm Instax Mini 75 Instant Camera. Use it at your next birthday party or family reunion to create memories of the special moments that last a lifetime. It has an auto flash and automatic adjustment so it takes great pictures even in low light conditions. This point-and-shoot camera is particularly easy and fun to use. It also compensates for manual exposure so you get high-quality photos. The Fujifilm Instax Mini film camera makes it easy to take fabulous pictures of your friends, family and the special moments that you want to remember.
Additional Information
The Fujifilm Instax Mini 7S Instant Camera makes it easy to take good pictures of your friends, family and the special moments that you want to remember.

Fujifilm Instax Mini 7S Instant Camera:
Fujinon lens with f=60mm aperture
Electronic shutter: 1/60 sec
Auto flash in low light with auto adjust
Manual exposure compensation
Image size of the instant film camera: 2.13" x 3.4"
Uses Fujifilm Instax Mini Film
Bonus pack of film with 10 exposures included
Fujifilm point-and-shoot camera lets you take a picture right when you want
Reviews
Mmmmeeee1986
Great
Love it takes good pics that looks old and love having my pics right then
Abbs
Love it!
I bought this a while ago and I love it! It's really cute and takes great pictures. the only problem is the film is a bit pricey. But past that, I love it and would totally recommend to anyone looking for this sort of camera. It took me a while to figure it out, but I really like it! I go to a lot of events and concerts and love photography, so something small and good quality is always a plus.
BrandonIG
You Will Love This Camera!
I'm writing this at 3:20am so beware of grammar mistakes lol :p IF YOU READ ONE REVIEW, THIS SHOULD BE THE ONE :) I am a 17 year old professional photographer, yes 17, and I needed something to reignite my creative drive. This was the product. I never shot with flash or small apertures, but the limitations I was faced with helped me grow creatively and I learned to deal with & embrace them. I shoot photos with my iPhone and DSLR, but when I realized that my film rangefinder was helping me make better decisions with the limited shots I knew I wanted to try to shoot on Instant Film too. Sure it's about a dollar per exposure, but it's worth every penny as you get something tangible instantly. Some pros would call this a toy, but this is a tool. All cameras are tools! :) Limitations are everywhere but don't let them stop you, and if you really love photography you'll get around them no matter what. I've incorporated this format into my pro work and people love the style. IF YOU ARE A BEGINNER DON'T YOU DARE LET ANYONE TELL YOU THAT YOU CAN NEVER LEARN BY USING YOUR PHONE OR INSTANT CAMERA TO GROW INTO A PROFESSIONAL. IF YOU LOVE WHAT YOU DO AND WANT TO MONETIZE YOUR SKILL YOU WILL EVENTUALLY LEARN TO USE A MORE ADVANCED CAMERA (if you want to go pro, but if not, just have fun!). NEVER LET ANYONE TELL YOU THAT YOU ARE DOING WRONG BY TAKING PHOTOS WITH A CERTAIN CAMERA!!!! WE ARE IN 2014 & ART IS NOT MEASURED IN MEGAPIXELS. I ENCOURAGE EVERYONE TO DO WHAT THEY LOVE & HAVE FUN! BE HAPPY WITH WHAT YOU HAVE & GET THIS LITTLE CAMERA. I used to hate the way they look, but it's just so nice to have as your own when you get it. I've purchased many products that are more expensive, but I must say this is the most satisfying product I have EVER bought. Happy Shooting in the New Year! :D BGI ... I know this photo isn't a great example, but it captured a moment I will never forget. I wanted to be in the photo so bad that I told one of the girls to get my 8x10 Senior Headshot for Drama & stick it on her shirt! lol So that's how I got to be in the photo. & you know this is a really special moment since I shot it on Instant Film, otherwise it would've been taken digitally. lol But if there's ever a time when you are taking a photo that you wanted to be in ,just remember, you were there, behind the camera telling your friends to smile & therefore your energy is in the photo! :) May you capture amazing things and remember that you are an artist whether you recognize it or not. :D
Tammy
Fun for Parties, Organizing, and Scrapbooking
Snap a photo and jot down a message for a friend. At bridal or baby showers, pictures with a message for the bride or baby come with a record of the attendees. Take a picture of your shoes and put it on the outside of the box so you can immediately find the shoes you're looking for. And of course easy, one-of-a-kind scrapbooking with these photos.
MsPJ
Great gift
This is a fantastic item, the pictures are better than the originals!!!