Nintendo Entertainment System: NES Classic Edition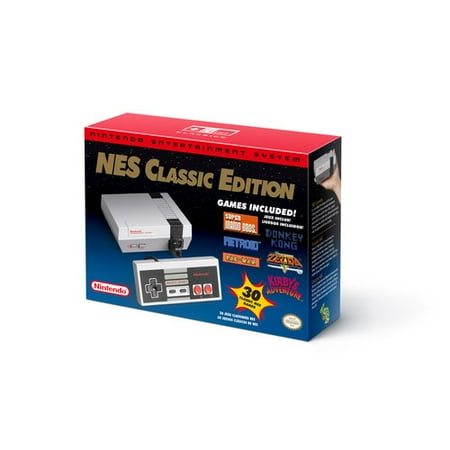 MSRP :

$199.99





Sale :

$59.99

Sold & shipped by Walmart
Product Description

Additional Information

Reviews
Product Description
Proving that true classics never go out of style, the highly-anticipated Nintendo Entertainment System (NES) Classic Edition is finally here — and it's awesome. Released in the U.S. in 1985, the original 8-bit NES gaming system was the best-selling game console of its time, and has garnered a loyal following among gamers young and old. The NES Classic Edition console is a miniature replica of the groundbreaking original, and features seamless compatibility with modern TVs — just plug it into your TV's HDMI port, and you're ready to play! The system comes bundled with an HDMI cable, AC adapter, one NES Classic controller, and 30 classic games preloaded — a carefully curated selection of old favorites, including Castlevania, Donkey Kong, Super Mario Bros., and many more!
Additional Information
Nintendo Entertainment System: NES Classic Edition
Comes pre-loaded with 30 games

What's in the Box:
Console

One wired, classic controller
Reviews
harold
hdjr2
Works great. Had to get a controller extension, of course! (Was that cord length a corporate joke?!) Anyways, Having such a blast with this, I'm vlogging playing each game on my youtube channel (youtube.com/heyhdjr2)! Brings back excellent memories and the games are STILL fun! Nintendo should turn them all into apps!
Makeupvixen
Cute tiny console but..
Nintendo did a good job with this tiny little console but one thing they should've done better was the quantity that was available. It took me almost a month to get my hands on one. In my honest opinion, I would say this system is worth around $50. One thing that would of been nice, is being able to add additional games but you can't. It's just the 30 games. Another thing is the length of the controller cable, it's rediculously short. I had to actually purchase the cable extension & another controller as well. The controller that mine came with didn't actually work that well. The buttons weren't always responsive. These are the reasons that I believe it's a four star system and IMO worth $50. I do hope that Nintendo will follow up with a SNES at a reasonable price. I would suggest that you don't purchase one for more then the suggested retail price, you will be disappointed if you do. I love this thing but again, it's only worth so much. Don't purchase from scalpers, just wait until Nintendo makes more to go around.
MikeD
Tons of fun - just like I remember.
Amazing that I can get 30 games for a little over the cost of 1 game in the 1980's (and that doesn't account for inflation!). The unit comes with 1 controller, and if you've read the online reviews, you know the controller cable is too short. Living rooms today aren't like living rooms of the 1980's, to avoid a "midpoint" stand for the Nintendo Classic I highly suggest ordering an extension cable just so the cables are not hanging in mid-air. The unit itself does come with a wall-supply, but with the micro-USB power, you can actually power it directly from your TV's USB port or in my case I use a USB port from my Xbox One. I love this feature! The controller feels totally authentic. One issue I had when using it was that I thought the controller was "laggy". It turns out that modern flat-panel TV's are laggy, not the controller. You have to go into your TV settings and change it from "standard" or "movie" to "game mode". I'm sure the gamers out there know this already. If you are getting this for a blast of 80's nostalgia, make sure you switch your TV or otherwise games will be unplayable. Other than that, this is the real deal - totally authentic. Plus - you can save "state" in the game at any point. Want to beat Gannon in Legend of Zelda? You can actually save your state right before you get to him. If the fight is going well, save the state again! Start losing? Just load the state from when you were doing well. The entire menu system is very well done and quite intuitive. I'm sure there are dozens of games we all wish were included that were not. I won't really knock the system for not including every variant of game we can imagine. However, I was disappointed to find Tetris was not included. And the architecture of the box doesn't allow any sort of upgrades (unless that USB port isn't only for power?). Overall, it's a really fun box for $60. Why 4 stars? Well, you will want a 2nd controller to play with a friend. So throw in another $10 for that. Then both controllers will be too short, so you'll need $20 in extension cables. Taxes and shipping, this will really be over $100 just buying it all retail. I would have preferred a slightly more expensive box that included the controllers and proper length cables. I'm also a bit disappointed there can't be more games for this platform when they clearly could have designed that feature in there. But do I recommend you buy it? In a minute - it's so much fun. But just spend $60 - don't pay these crazy prices. It will come into stock eventually and you will be able to get it for $60
disappointed
Love it
Finally got one and is awesome little thing myself and kids making memories together this Holiday season. People don't pay more than retail asking price I been keeping track of inventory stocks thru "brickseek.com" and is very accurate.
Naeskm
Great!
This was a gift for husband and he loves it. I didn't think that I would be able to get one since they were selling within seconds. This game is great and within price. My only two cons are that the controller cord is small and that it only comes with one controller.