Augason Farms Morning Moo's Low Fat Milk Alternative 3 lbs 8 oz No. 10 Can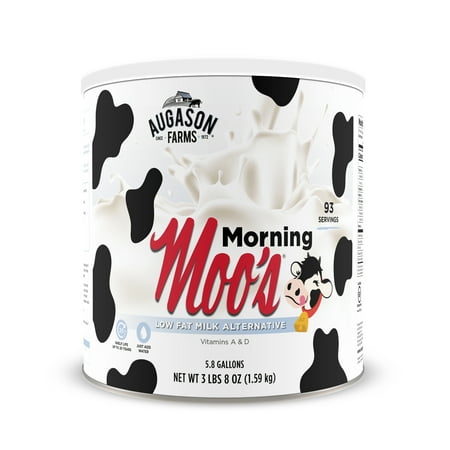 MSRP :

$16.63





Sale :

$15.31

Sold & shipped by Walmart
Product Description

Additional Information

Reviews
Product Description
Reconstituted, Augason Farms Milk Alternative Drink Mix performs like non-fat powdered milk with the real taste of milk. Morning Moo Milk, 56 oz, is a healthy drink meant to be used by your family at meal time, in your favorite recipes and in your long-term food storage. This non-fat powdered milk is an Augason Farms original product. This Augason Farms Milk Alternative Drink Milk is the family favorite that built the company over 40 years ago. Easy to prepare, this Morning Moo Milk, 56 oz, can be used by almost anyone, and since it is packaged for long-term storage, you can stock pile it for use at a later time. With no refrigeration needed, this non-fat powdered milk can also be used on the go or in a car for long distances. Ideal for camping and everyday meals, this Augason Farms Milk Alternative Drink Mix can be used by a wide variety of people for many different purposes.
Additional Information
93 Servings

6,510 Calories

Makes approximately 5. 8 gallons

Certified Gluten Free

Up to a 25 Year Shelf Life!

Reviews
Reese
Milk
I use this product daily. I also store it for emergencies. I enjoy drinking it almost if not just the same as buying milk fresh.
joydoctor
This tastes good and is shelf-stable long term.
I needed a way to keep milk in my shelf-stable pantry. I am a big fan of Parmalat Whole milk in quarts because they are shelf-stable and long-term, but they are not easy to find locally. I have never been a fan of nonfat powdered dry milk simply because I never was able to get it mixed well and the taste left a lot to be desired. However, Morning Moos Milk Alternative mixes well by using warm water to mix it, (I use my blender on the highest speed to do that,) then placing it in the refrigerator to chill overnight before using it. I find the taste is very similar to real milk, and is not unpleasant in any way to drink as a milk alternative. I also like that as long as it remains unopened, the can will last ten years. Once it's opened, it still lasts for a year. Each can makes 5-3/4 gallons when mixed with warm water. I use it just as I would use whole milk. Thank you, Walmart, for carrying shelf-stable products that are good to keep on hand.
Flankspeed70
Outstanding product - great value
I popped open a can of the 'Morning Moos' - the stuff is really good. When mixed according to directions, it compares very favorably to 1-2% fresh milk. With a +50% mix, it is virtually indiscernible from whole fresh milk. At standard mix, the yield is 5.8 gallons, or 93 8-oz glasses. At +50% mix, the yield is very close to 4.0 gal/can. Walmart seems the best source, at $14.98/can. Using a 4 gallon/can mix, the price is virtually identical to the fresh milk price at 3.75/gal. It claims a 25-year shelf life unopened, and 1-yr. opened. The standard mix yields 70 calories/8-oz glass, and the +50% mix yields 105 calories. Fresh milk is 150 calories with 70 calories (8g) of that as fat. Morning Moos is 2.5-3.75 g fat, depending on mix. If I needed to bring the calorie content up, I could dose in some Carnation Instant Breakfast. Also, if your household is an irregular milk consumer, this makes great sense as you can mix only what you need. So, I'm now ordering a second case, cuz if SHTF, I'm going to be feeding several grand kids as well
PrepMan
Great stuff!
It's hard to overstate how tasty this stuff is. If you've ever tried powdered milk and experienced the "mouth feel" and the after-taste that goes with it, you'll appreciate Morning Moo's. Aside from cooking and morning cereal, I actually drink this stuff by the glass - haven't done that in years. You can also get small cans directly from Augason Farms to test it yourself, but the #10 can is so inexpensive, I'm not sure why anyone would bother. BTW, the directions on the can are more complicated than they need to be. I just put a quart of room temperature water into a container #with a lid#, add a level half-cup of Morning Moo's, and then shake it until it's dissolved. Put it in your refrigerator and drink when it gets cold. I've also put it in the freezer for an hour or so if I'm in a hurry. Great stuff!
amweather
Tastes like 1% milk
This container makes 6.5 gallons of milk and once mixed and chilled, it is great with cereal or cookies. I grew up drinking powdered milk and the texture and flavor were horrible. I will certainly be buying more of this. This is not only a good deal, but tastes great. Give it a try!