Augason Farms Dried Whole Egg Product 2 lbs 1 oz No. 10 Can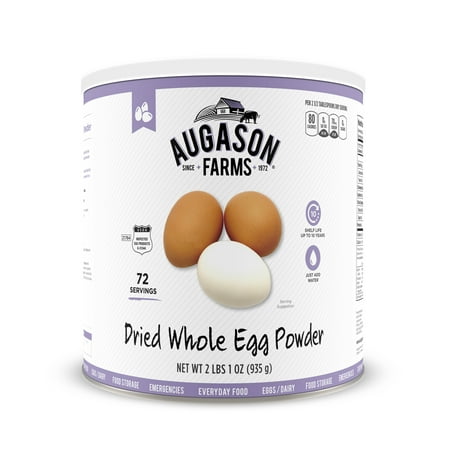 MSRP :

$26.24





Sale :

$21.2

Sold & shipped by Walmart
Product Description

Additional Information

Reviews
Product Description
Augason Farms Dried Whole Eggs lets you always have eggs available. With no refrigeration required, it is ideal for camping, emergency food storage or even everyday use. This whole powdered-eggs product, 33 oz, can be used in baking and cooking, as well. For example, you can use them in omelets, French toast, bread, muffins, cookies, cakes, etc. It provides all the wholesome goodness of the regular food, but with the convenience of a long shelf life. This Augason Farms emergency food whole eggs dried egg product is USDA inspected and approved. It is easy to transport and can be stored when not in use. You get 71 servings per package, so you can cook many omelets or other dishes. This Augason Farms Dried Whole Eggs product has 70 calories per serving. Crafted with a focus on taste and health, it is manufactured to the highest standards.
Additional Information
Product Features
Shelf Life 10 years
Food storage
Emergencies
Everyday food
Eggs / dairy
Find us on Facebook Find Great Deals
www.AugasonFarms.com
© 2016 Blue Chip Group
Reviews
Truth4You
Great product for emergency and everyday use
I made this tonight and it was good . I made them plane without adding salt or pepper. They tasted ok plain. I recommend adding salt and pepper wile cooking and adding more water than it states . Like 1 cup of eggs to 1.25 cups of water. I also made French Toast with it. It was really good like the real thing no difference. The meat was caned ham. It is called D A K fully cooked premium ham.
1234happy
which came first?........
almost any which way you need eggs....baking...omelets...stir fry....dipping for frying ....just some of the ways,,,,great to have at your fingertips for any recipe calling for eggs.....
Sherrna
I AM TOTALLY IMPRESSED!
I tried out this product and in the beginning I was skeptical because when I mixed it with water it did not smell or look like beaten eggs. However, when I cooked them they turned into EGGS, really nice scrambled eggs! I seasoned them just like I would any eggs and it tasted just like it. The first time I found them to be a little more firm than I was used to, so the next time I added a little extra water (which is exactly what I do to regular eggs to make them more fluffy) and it did help to soften them up a little. I am really happy with the outcome of this product. I crave eggs sometimes, but there are always part of a carton left sitting in the fridge for a long time getting old before I crave eggs again. Having this product takes care of the problem. I don't have to worry about eggs getting old and they will always be available when I'm ready for them.
Critterlover
Simply the best price around.
So glad I found this on Walmart.com! Phenomenal price compared to what I've been paying for another brand.
Gemini12345
Can't tell the difference!
With the price of milk and eggs going up, decided to try the eggs after buying the milk. Just cooked some and while it did have a bit of a more orangy color, as they cooked they turned more yellow...so they look normal. I made scrambled and was so surprised at how good they were. You really cannot tell the difference by looks, taste and smell (as they are less smelly than real eggs). I'm going to try them for French toast tomorrow and when I bread chicken cutlets. Also look forward to using them for baking as Christmas is upon us. Highly recommend them - am very impressed!