Augason Farms Honey White Bread Scone & Roll Mix 3 lbs 10 oz No. 10 Can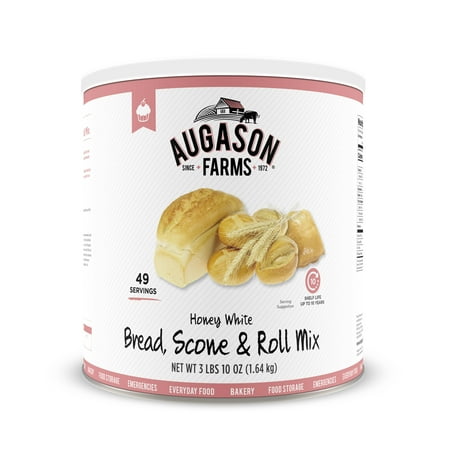 MSRP :

$11.22





Sale :

$10.54

Sold & shipped by Walmart
Product Description

Additional Information

Reviews
Product Description
Augason Farms Honey White Bread & Roll Mix is a delicious, healthy mix that can be used in a variety of ways. It is simple to make, just add water, oil, and yeast. There's nothing like the aroma of baking bread. Its satisfying flavor and texture is filling and nourishing. Use this handy mix for everyday bread making as well as for long-term food storage. Augason Farms offers a wide selection of baking mixes and baking items. Whether you're preparing baked goods from scratch or want a quick baking mix, it provides for your needs.
Additional Information
49 Servings

5,880 Calories

3 Pounds 10 Ounces

Perfect for Food Storage, Emergencies, Survival, Camping, and Everyday Use!

Up to a 10 Year Shelf Life!

Reviews
Raisenetta
Bread machine perfect!
I had great luck with this bread mix! I used my bread machine on a dough setting and formed my own loaf in a glass bread loaf pan. I had to watch not to let it rise too much, as it is faster than my usual recipes! The bread was delicate and made a firm dense loaf, so I made a batch and formed 12 good sized buns. Since then I have made two more loaves and had to order more. I got 4 batches from the can, and consider the price and the convenience well worth it. The taste of the bread is fresh and sweet and stayed very well in the refrigerator. After freezing half the buns the taste and texture was unchanged. How nice just to heat up in the microwave and get ready for butter and honey! This time I ordered one white and one wheat can and have found the mix for me. Not only that, it says the mix stores for one year after opening, if it lasts that long! I'm glad Walmart has this product. Good work!
shellme3
On my second can!
The first can made about 4 loaves of bread. The can does not if their measurement is with a packed scoop or not so I had to figure it out on my own. I use a KitchenAid Pro 6 stand mixer. Load the warm water and yeast, swirl with a spatula and wait 10 minutes. I add the fat (oil or butter) then 3 packed scoops of this product. Place the bowl on the mixer, insert the dough hook run it at speed 1 for 1 minute, move it to speed 2 for 4 minutes and you are done! Use cooking spray to lubricate your bread pan. Unlock the bowl and hook from the mixer, spray your hands with oil (I generously spray my left hand, sit the can down and rub hands together) use oiled hands to slide dough off the hook, and pull dough off sides of the bowl. I immediately toss it into the bread pan and pack it down. I sit the pan in the over with the light on and wait for it to rise. Then bake in same oven. I make the loaf while I am making dinner so by the time everyone has ate their meal and we are cleaning up I am turning the oven on to bake the bread. This product saves a ton of time on measuring and gathering the various products. Love it.
Minniemoe
OK at best
So online it said add water only. THIS IS A LIE! (kind of) Lose one star. It requires oil and active dry yeast to properly prepare according to directions. When prepared according to directions I was able to make 8 small loaves of bread. They rose a bit, not huge. The bread was still pretty dense and had a decent flavor. My kids loved it, they ate it all. I made a second batch using only water to simulate an emergency situation that would require eating emergency food. This time I made 2 large loaves. After 35 minutes the bread was still a bit doughy but cooked on the outside. Very dense and dry in parts. Made me thirsty. However it is still edible and would do to bulk up a meal if your short on food. I would recommend if you use just water to make smaller loaves to cook more completely and eat it with soup.
SpookyFox
My favorite bread flour by far
Several years ago, I decided to bake bread. But, as a single man of 59, I knew it would only happen using a bread making machine. I bought the cheapest machine I could find (because my research suggested that for all intents and purposes, the machines all do about the same). So, I plunked down $49 on Amazon for a basic machine, and went to work. Intentionally, I tried about 8 different flours the first few months, and none of them seemed to do the trick. I was beginning to suspect it was my cheap machine. I also changed different recipes, different sugars and spices, and of course, different yeasts - all to no avail. Finally, I was about to purchase a $150 machine, but saw this bread flour on Walmart, and gave it one last shot. I was amazed at the loaf of bread that was baked. It was as close to the real home-made deal, as could be. The bread rose to the top of the dispenser. The taste was amazing. The preparation was simple since everything but water and yeast, was already incorporated into the flour. I love the bread this flour produces. Even using cheap older yeast that I kept stored in the freezer, did the job of making a tasty, large loaf of home-made bread. Trust me, you will love it too.
ditdot1
It is not 'add water only' according to AF website
you have to add other ingredient other than water in order to make these ..web is : rollshttp://www.augasonfarms.com/image/pdf/80311%2010%20BAK%20Honey%20White%20Bread%20Roll_NUT.pdf