Augason Farms Buttermilk Pancake Mix 3 lbs 4 oz No. 10 Can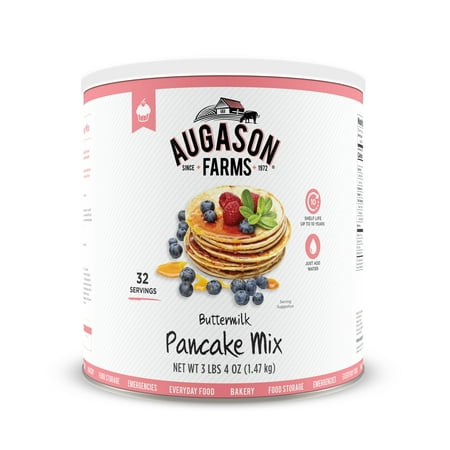 Sale :

$7.32

Sold & shipped by Walmart
Product Description

Additional Information

Reviews
Product Description
Augason Farms Buttermilk Pancake Mix is simple to make and it's full of flavorful blueberry bits. Family owned and operated since 1972, Augason Farms believes that great taste is a tradition worth preserving. Crafted with a focus on taste and health, their products are manufactured to the highest standards. Let them provide you with delicious peace of mind.
Additional Information
32 Servings

5,120 Calories

Just add water!

Perfect for Food Storage, Emergencies, Survival, Camping, and Everyday Use!

Up to a 10 Year Shelf Life!

Reviews
csheilac
Easy & pretty good
The lid on the can fits pretty well, there's oxygen absorbers that I left in can after opening (just made sure none were in my batter). Like others said, the baking mix does not fill the can all the way to the top -- it looks about 3/4 full, but if you need to compare prices with similar products, you would just use the weight: 3lb 4oz. I followed the instructions pretty much to a T -- used the amount of water called for on the can. I feel like that was a good amount, my batter was fluid such that it spread out a bit on the pan, but still retained a round shape (they have a slightly weird edge due to my poor flipping skills). If you like it thicker, then by all means reduce the water a bit. It was super easy to use and make -- I did not stir too hard to get rid of lumps, and my pancakes were fine. They smelled great, had a lovely mouthfeel, my only issue is that they had a bit of baking soda aftertaste -- I might not be cooking them right -- I did not really taste that when sampling the pancakes the manufacturer made. I added some adzuki paste in the middle to make 'homemade dorayaki' and they were great breakfast/snack. I am an associate of Walmart.com and I received this item as a sample in exchange for a review.
CyberReign
ButterMilk pancake mix
When I opened the can I was surprised to see how little product there was inside. It was slightly over half full. Next when I followed the instructions to make the pancakes they were the consistency of soup. So I had to double the amount of pancake mix to make them light and fluffy. I compared the price of the can to buying just from the grocery store and vacuum packing them myself I and discovered I can do that for half the price. So you're paying $4 for the number 10 can. If that's worth it to you, buy it. But after doubling the amount of pancake mix, I did find them to be tasty.
Maryisabell
This is all you need in your 'bread' line .
This is all you need for your BREAD , emergency food supply . This pan cake mix also is a butter milk biscuit mix . The recipe is right on the can . This pancake mix also can be used as a dumpling mix as well . Use more mix for thicker batter and drop on top of boiling chicken broth . Thinner batter is used for roll up bread's for meats , peanut butter & jelly etc. This is a absolutely wonderful price , long storage life and I got free shipping . I stocked up . Hope I was able to help someone with this GOOD decision . GOD BLESS
Pergodious
Great Pancakes
This mix is a great value and tastes good. We mix ours with slightly more water than the recipe calls for. Makes quick work of breakfast!
microqueen2
for emergencies...
I was impressed with the quality of this item. My grandchildren loved the pancakes! It tastes like regular pancake mix, but I added a bit of extra water because it was too thick. Overall, a good product.