Augason Farms Buttermilk Pancake Mix 3 lbs 4 oz No. 10 Can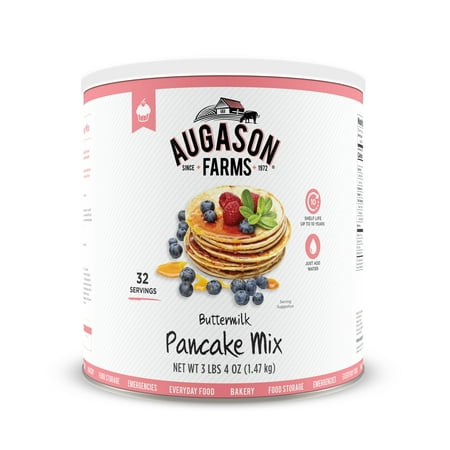 Sale :

$7.32

Sold & shipped by Walmart
Product Description

Additional Information

Reviews
Product Description
The Augason Farms Buttermilk Pancake Mix 3 lbs 4 oz No. 10 Can is made from high quality flours that are blended to perfection. All you need to do is add water to prepare them. Full of wholesome goodness and irresistible flavor, a plate of steaming hot buttermilk pancakes with your favorite fruit or syrup generously poured over the top makes a perfect breakfast. Not only can you make tender, light, fluffy, golden-brown pancakes—nearly everyone's favorite—consider also using the Buttermilk Pancake Mix to easily and quickly make waffles, biscuits, muffins, sweet banana bread and scones. The possibilities are abundant, making this mix a must for everyday use as well as for long term food storage. This product consists of 32 Servings and 5,120 Calories, with a shelf life of up to 10 years. It's perfect for Food Storage, Emergencies, Survival, Camping, and Everyday Use! Make the wise decision and let Augason Farms give you a peace of mind that's as indispensable as it is delicious. Family owned and operated since 1972, Augason Farms believes that great taste is a tradition worth preserving. They'll provide you with delicious peace of mind with their food essentials. Please discard oxygen absorber after opening. Best when stored in a cool dry place at temperatures between 55° and 70° F (ideal humidity 15%).
Additional Information
32 Servings5,120 CaloriesJust add water!Perfect for Food Storage, Emergencies, Survival, Camping, and Everyday Use!Up to a 10 Year Shelf Life!
Reviews
CyberReign
ButterMilk pancake mix
When I opened the can I was surprised to see how little product there was inside. It was slightly over half full. Next when I followed the instructions to make the pancakes they were the consistency of soup. So I had to double the amount of pancake mix to make them light and fluffy. I compared the price of the can to buying just from the grocery store and vacuum packing them myself I and discovered I can do that for half the price. So you're paying $4 for the number 10 can. If that's worth it to you, buy it. But after doubling the amount of pancake mix, I did find them to be tasty.
Maryisabell
This is all you need in your 'bread' line .
This is all you need for your BREAD , emergency food supply . This pan cake mix also is a butter milk biscuit mix . The recipe is right on the can . This pancake mix also can be used as a dumpling mix as well . Use more mix for thicker batter and drop on top of boiling chicken broth . Thinner batter is used for roll up bread's for meats , peanut butter & jelly etc. This is a absolutely wonderful price , long storage life and I got free shipping . I stocked up . Hope I was able to help someone with this GOOD decision . GOD BLESS
Pergodious
Great Pancakes
This mix is a great value and tastes good. We mix ours with slightly more water than the recipe calls for. Makes quick work of breakfast!
microqueen2
for emergencies...
I was impressed with the quality of this item. My grandchildren loved the pancakes! It tastes like regular pancake mix, but I added a bit of extra water because it was too thick. Overall, a good product.
PrayConstantly
Haven't tried it yet....But
I am only writing the review based on my delivery. We placed a large order of this brand and I would say that about 10 cans came dented. So, make sure to open all of the boxes before you store them incase you need to return something.