Augason Farms Cheese Blend Powder 3 lbs 4 oz No. 10 Can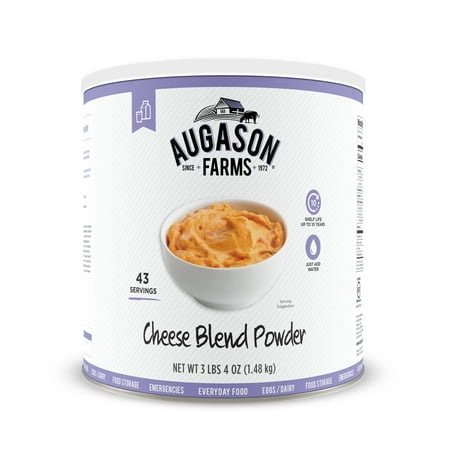 MSRP :

$28.99





Sale :

$16.86

Sold & shipped by Walmart
Product Description

Additional Information

Reviews
Product Description
Create a variety of dishes with the Augason Farms Cheese Powder, 3 lbs. The Augason Farms Emergency Food Cheese Blend Powder can be used for camping trips and for long-term storage. The delicious powder can be used to make sauces for pasta, soups, and even cheese spreads to eat with vegetables and crackers. It doesn't need to be refrigerated, so it will last. Each package contains enough powder for 43 servings. This long term food supply is affordable, and even though it has a long shelf life, it is delicious enough to use on an everyday basis.
Additional Information
43 Servings
5,160 Calories
Perfect for Food Storage, Emergencies, Survival, Camping, and Everyday Use!
Certified Gluten Free
Up to a 10 Year Shelf Life!
Reviews
Gina9875
I like it
I have had a can of this for about 6 months. I use this to make mac and cheese on a regular basis. I like that I have more control over what I'm cooking. This is just powdered cheese, no sugar added. I don't know if Kraft changed their recipe or something, but the mixes have a little sugar in them, which is just weird. You can't add enough salt to make that taste right. With the Augason cheese powder, you can get it the way you like. I also like to make a bigger batch and use better pasta than the thin junk that comes in the boxed mixes. Once you have made your own a few times, you will see that it's actually more convenient than having to buy little boxes constantly. It's one less thing on my grocery list. As for the powder mixing, I have found that you need to use hot water. At first I thought cold water would be better because that's what you need with corn starch, but nope. Use hot water and a whisk, and it will blend well in just a couple of seconds. Then quickly pour into your cooked noodles. Milk and butter are optional. I use 2 or three times as much liquid as they have on the instructions, because once mixed, the cheese sauce will thicken up, and it can get lumpy if you don't already have the liquid mixed in.
lrihs
Very happy with product.
So far I have only used the product to make mac & cheese and in a recipe calling for cheese sauce. Both tasted great. I just wish it was for sale at the store and came in an eight ounce box instead of the huge can I ordered. I am seventy five years old and do not need anything with a 25 year shelf life. At my age I'm taking a chance when I buy green bananas.
ooblygoobly
Excellent
I don't know what the other reviewer is referring too, my can says "stir 1/3 cup cheese powder into 1 cup HOT WATER using a whisk. Continue stirring until smooth. Let stand 3-5 minutes, whisk again. Yields 4 one quarter cup servings." end quote. I've used this cheese blend for over a year, and it's excellent and sooo easy, and it only uses WATER. Mixing 1/3 of a cup and ending with a whole cup of cheese sauce is a deal if you ask me. It's excellent on broccoli, mac and cheese and even used as a dip for potato chips. I have never mixed it with milk or butter...
WillBkool
Good for what it is.
Ok, don't expect high quality cheese from Europe here. Think the dry powdered boxed mac and cheese, only I think Augason's is better. If there ever is a food shortage for whatever reason, you'll be glad to have this. It does take quite a bit of stirring to mix it with water though, better to get one of those shaker cups or use a blender if you still have power, and then you can add the powdered butter and milk, also from Augason Farms, to some pasta and it makes a good rendition of mac and cheese. Keep a can handy for whatever emergency befalls you, and you'll be glad that you did.
whatchadoodle
Perfect Cheese Straws
AUGASON FARMS CHEESE BLEND POWDER + Bisquick + very few other ingredients make perfect Cheese Straw Appetizers for the Holidays. Also great for sauces.