Anti Embolism Thigh High Stocking Extra Large Long Length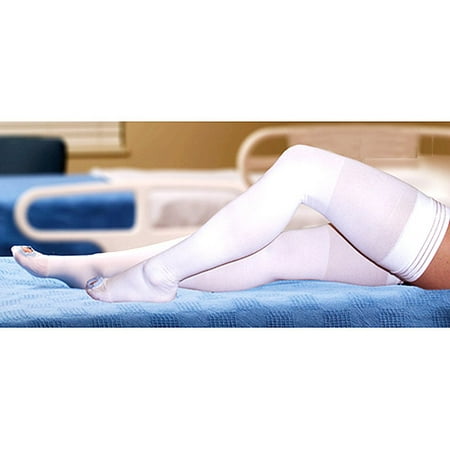 MSRP :

$12.922





Sale :

$7.03

Sold & shipped by Walmart
Product Description

Additional Information

Reviews
Product Description
McKesson Brand 84-45 Anti Embolism Thigh High Stocking Extra Large Long Length 2/PR
Additional Information
McKesson Brand 84-45 Anti Embolism Thigh High Stocking Extra Large Long Length 2/PR:
Thigh-Length Style
Size: X-Large Long
Calf Circumference: Greater than 15 inch (38.1cm)
Upper Thigh Circumference: Between 25 to 32 inch (63.5cm-81.3cm)
Length Gluteal Furrow to Bottom of Heel: Greater than 33 inch (83.8cm)
Color Code Shown at Top: Blue
Color Code Shown at Toe: Green
Nylon/spandex. Gradient pressure compression. Formed heel pocket. No-bind, stay-up top. Color coded for easy sizing. Inspection toe hole.
Latex-Free
Packaged: 1 Per Box
Reviews
Gadel
Meet my expectations more
I was apprehensive when I first seen these stockings on the Walmart web site. When they came in today I was amazed that they were as soft and smooth a texture as the Kendall TED hose are. I put one on the leg of the leg I had surgery and they were comfortable to wear. The only thing I had a problem with is that the top of one of the pair I purchased was coming apart easily but I have not noticed that it was that way with the other stocking. I think this must have been an over sight on the manufacturer's part because I did not see this same problem on the other stocking. For the most part these are great hose and they do the trick and I will be purchasing some more to have on hand for the total knee replacement surgery for my right knee. I have a pair of the Kendall TED hose that the hospital put on me and for something that is as expensive as they are, they sure do not hold up that well. I already have runs in both of the legs and holes in both of them. When I see that they are running $40 to $50 a pair this is too much for a stocking that just doesn't hold up for daily wear for weeks. I only have had the Kendall TED hose since January 17, 2012 and by the 3rd week they had holes and runs in them and had all kinds of snags. If I had to do it over again, the McKesson are by far the better product to use. Even my physical therapist was impressed.
AHappyWalmartShopper
TEN STAR REVIEW!!
Here is my story. Knee replacement surgery 5 weeks ago. Told to wear these for 6 -8 weeks post surgery. Rehab sent home wrong size. Went to Walgreens to buy. OMG!! There price was over $40.00. Just like what I had used in the Hospital. DA? I did not buy. Then I got on line and found this product. The reviews were good so I ordered. They were delivered free to store in 3 days. They are perfect and actually better quality than those that I used in the Hospital. My only suggestion to Walmart. Stock them!
FloridaSuperSaver
Anti Embolism Stockings
Very good product at a very good price! The fit is snug but not so tight that they can't easily be used every day.
FloridaSuperSaver
Anti Embolism Stockings
I only have to wear these on one leg, yet since I received them about 3 weeks ago, they have begun to pull apart where the panel is sewn in and has runs developing. They are not put in the dryer, and are washed between wearings. These do not stay up, the part with the panel rolls down, no matter where you wear them or how well you pull them up. I have another pair that were used by my mom that were bought elsewhere, and they are holding up great. I rotate them with they other two that I have so they only get worn 1-2 times a week at most. Not a quality product.
4tank4
exellent product for what its made to do----
Make sure to accurately measure your upper and lower leg and remember one leg may be bigger than the other---